Donations
As a non-profit organization, we depend on the generosity of donors like yourself. There are a variety of ways to give, including sending a check and buying a selection of charity items. All donations are tax-deductible.
CONTRIBUTIONS
To contribute directly, you can send us a check to:
DaVinci Center
470 Charles St.
Providence, RI 02904
Or you can
Donate with PayPal
Publications
Shopping for Holiday Gifts for 2015
The DaVinci Center also raises funds for it's programs through its own publications. The two publications are available by calling the DaVinci Center at 401-272-7474, or can be purchased at the DaVinci Center located at 470 Charles St in Providence, RI 02904.
The two publications are described as follows:
"After the Snowfall"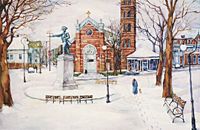 A color print of an original watercolor by Rhode Island School of Design Artist, Shiyeun Lee, depicts Hopkins Square in Providence. It is entitled "After the Snowfall". The 15"x24" print is a limited edition of 1,000 with each being signed and numbered in pencil by the artist and comes with a Certificate of Authenticity. Each print sells for $50.00 plus $2.50 shipping & handling.
"Festa Italiana"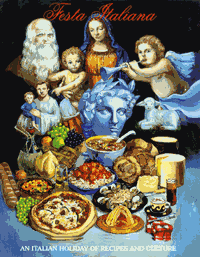 This 83 page recipe book entitled "Festa Italiana – An Italian Holiday of Recipes and Culture" offers traditional recipes associated with the major holidays as well as some interesting anecdotes regarding holidays and traditions. Each book is only $10.00 plus $1.95 for postage and handling.
.