Education
The Education Department can help you reach your educational goals whether you are in middle school,high school, or thinking of taking college courses.
DaVinci Center Education Assistance
Tutoring is available upon request and the ability to match a tutor with the students needs.

A dropout prevention program is available for students that are in jeopardy of dropping out of school. A case management approach addresses family as well as student needs.

If you have not finished high school, you can prepare yourself to take the General Education Development Test (GED) by taking Pre-GED or GED Classes at the Center.

If you need to work on your English reading, writing, or language skills, you can also take an English for speakers of other languages (ESOL).

There is also an accredited college course you can take at the Center if you are considering a college degree.

Several personal enrichment courses are also held during the year.

Special classes such as Italian, Art, Line Dancing are offered periodically.

After school culinary program: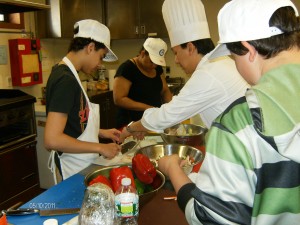 VOLUNTEERS: Outreach efforts are also conducted in the community with the goal of recruiting
on-site volunteers to help tutor those enrolled in the various educational programs. If you are interested in volunteering as a tutor, contact us via our Volunteer Page or call us at 272-7474.
Class dates and times can be found by clicking on The DaVinci Center Monthly Newsletter. Additional information about the GED can be found at:
www.acenet.edu/calec
Assistance is also offered directly by the Educational Coordinator at the Center in the following areas:
An Assessment of Literacy Level
Help with Learning Difficulties
GED Readiness Assessment and Testing
College Selection Process along with Financial Aid Programs and Student Loans
Further educational information and resources are available at: www.ed.gov, www.collegeplanningcenter.org or www.ccri.edu/eoc.